When cash flow gets tight, getting some money up front for future sales would be an ideal solution for any business. While you are unlikely to find many customers willing to pay now for something they are going to buy next week, there are lenders who are prepared to deliver finance on this basis, and that is the principle behind a business cash advance.
How does it work?
Also known as a merchant cash advance, this kind of financing is not, strictly speaking, a loan because the receiver is essentially selling future sales to the financing company at a discounted rate. The amount of future sales being sold, along with the discount rate and the repayment percentage is all agreed up front. Repayments are then automatically made at the agreed percentage of future sales.
For example, suppose a business sells £20,000 in future sales for £25,000 at a repayment percentage of 20 percent. The finance company provides the full £20,000 immediately, and in the subsequent months, the business pays back 20 percent of its sales, until the agreed amount of £25,000 has been cleared.
In most cases, this can be done automatically through EPOS merchant transactions, which is why this sort of financing is also known as a merchant cash advance.
Advantages of a business cash advance
With a business cash advance, you receive the cash quickly, and because it is not officially classified as a loan, there are no lengthy applications or credit checks. You can typically have the money in the bank within a week.
You know exactly where you stand with regard to repayments. You do not have to worry about interest creeping up on you – the amount agreed at the outset is the amount you have to return.
The flexible way that repayments are made also means that paying the money back will not create problems of its own, even if you have a bad month of sales. In our above example, if your sales are £30,000 in month one, £35,000 in month two and £20,000 in month three, the amount repaid in each of those months is £6,000, £7,000 and £4,000 respectively. This is in stark contrast to a business loan, where you need to find the agreed repayment amount every month, regardless of how good or bad sales have been.
See your options now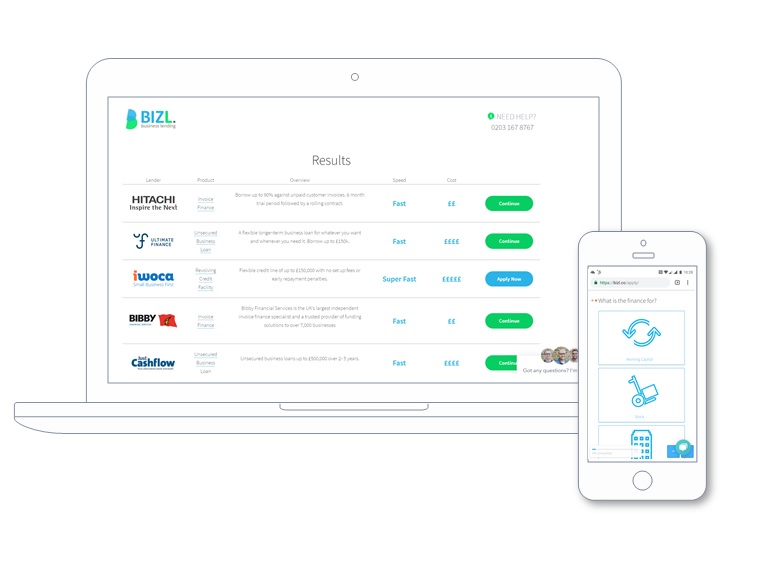 Apply in 60 seconds
See which lenders can help
No obligation
Viewing your options has no impact on your credit score
What about disadvantages?
With flexible, affordable repayment schedules and lenders who will not mind if your business has a credit rating that is through the floor, this might sound like the ideal form of financing. So what's the catch?
Business cash advances have been described in some circles as the "payday loans" of the business world. The term sounds a little disparaging, but the point is that they are easy to get, but the rates are, as we saw from the example above, on the high side – typically at around 20 to 25 percent.
Nevertheless, for many businesses, that is a price worth paying to get an instant cash injection and be safe in the knowledge that the repayments are affordable.