Keeping cash flow healthy is absolutely vital for business success. Running out of cash is the nightmare scenario that keeps many business owners awake at night, while for those with growth plans, it is not just a case of ensuring there is enough cash in the bank to survive, they also need sufficient working capital to take advantage of any new opportunity that comes along. Trade finance is a useful tool that covers both of these bases.
How does trade finance work?
Trade finance is a little like invoice finance in as much as it provides instant funds on the basis of work or orders that your client will pay for at a future date. Unlike invoice finance, however, it does not require you to have actually invoiced for the work. Typically, trade finance is available on a confirmed order basis. So if you have a purchase order from a customer, for example, trade finance will provide the cash you need to ensure you can procure the materials, provide the product or service and deliver it to the customer. For this reason, trade finance is sometimes referred to as purchase order finance.
What are the terms?
Interest rates will vary on a case by case basis, as the risk to the lender depends on the reliability of the supplier and the buyer you are working with. Typically, however, you will be looking at an interest rate that is somewhere around the one to two percent mark per 30 days. The amount you can borrow depends on the size of the purchase order, and the repayment terms are usually up to 120 days. The good thing about trade finance is that it is very much a bespoke type of funding, so these are just illustrative figures.
Who is eligible?
In short, any business is eligible for trade finance. As the financing is on the basis of other parties in the supply chain, a sketchy or less than perfect credit history needs not be a barrier to taking advantage of this kind of facility. In that respect, it is a form of credit that focuses very much on the here and now. The lender is less concerned about what's happened in the past, or what assets you have or haven't got on your balance sheet. They are more concerned about the transaction that will underpin the finance. How much is it worth, who are the other parties involved and just how much benefit is it going to deliver to your business?
Using trade finance with other tools
Trade finance can dovetail well with other types of funding, particularly invoice finance. While trade finance bridges the gap between ordering the materials or inventory you need to deliver your product or service, the latter helps you through the time between invoicing your customer and them settling the bill.
See your options now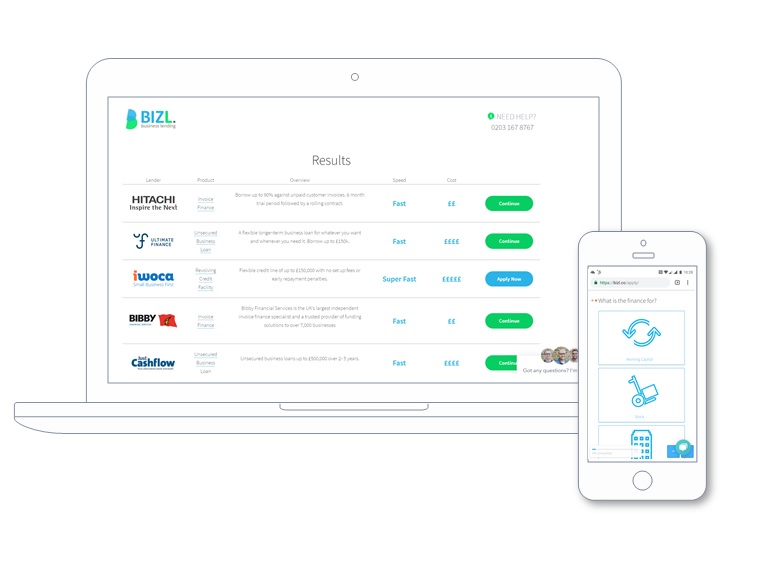 Apply in 60 seconds
See which lenders can help
No obligation
Viewing your options has no impact on your credit score