The term "Invoice finance" covers various types of invoice-based lending such as invoice discounting, invoice factoring and spot factoring.
Invoice finance helps B2B companies unlock cash tied up in invoices therefore speeding up cash flow. Invoices raised to a business's customers are sold to a third party who will advance some of the value up front, for a percentage of the invoice.
How it works
You provide the goods/services to your customer and invoice them
You scan the invoice details onto the invoice finance provider's system
A percentage of the face value of the invoice is paid to you
For an invoice discounting facility you then chase and collect payment from your client as normal
For an invoice factoring facility the lender will chase and collect payment from your client on your behalf
When your debtor pays, the balance of the invoice is paid back to you – less fees payable to the lender
See your options now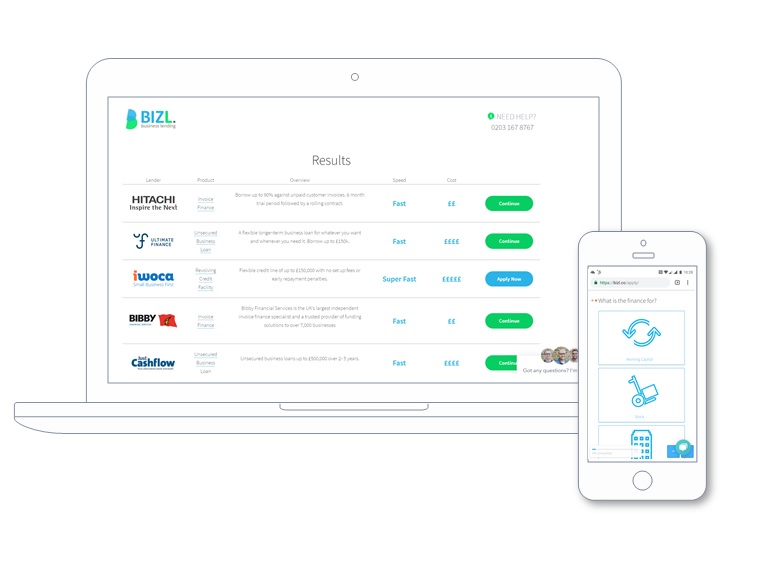 Apply in 60 seconds
See which lenders can help
No obligation
Viewing your options has no impact on your credit score
Benefits
Cash is received quicker. Rather than waiting 30/60/90 days for your invoice to get paid the majority of the value of the invoice is cashed in up front helping cash flow. Cash can be put to work back in the business – funding growth, funding new contracts, improving negotiating power with creditors and so on.
A business's debtor book (outstanding invoices) is often their biggest asset. Invoice finance leverages that asset, normally meaning security over property is not required.
Invoice finance can be more flexible than loan or overdraft finance – which is great for growing businesses. The credit limit grows proportionally to the debtor book, unlike loans and overdrafts which are normally limited by the value of tangible security available (property).
Under Invoice Factoring the lender chases and collects payments on your behalf meaning you don't need to undertake that credit-control function
Things to consider
Invoice finance funds B2B (business-to-business) invoices. Invoices to individuals cannot be funded.
Do you want the invoice finance provider to communicate directly with your customers, or do you want to do that yourself? Both options are available.
Do you want all of your invoices to be used to raise finance, or just one or two specific invoices? Both options are available.