Every business is faced with routine out of pocket expenses, and a corporate credit card account can be a convenient way of meeting them in a way that spreads costs, improves cash flow and provides ready-made statements for accounting purposes. In essence, a corporate credit card works in exactly the same way as a personal one, and this can have both pros and cons.
How's your credit?
Before we dive into the nuts and bolts of business credit cards, we need to ask whether your business will be eligible for this form of credit. A credit card is a typical example of unsecured credit, and so just like with a personal credit card, the lender's decision will be based on the client's creditworthiness. This is simultaneously simpler and more complex when looking at a business.
On one hand, a corporate credit card account will probably have several users, some of whom might take a more relaxed view of utilising the company's line of credit than the rules permit. But on the other, the lender has a degree of separation from exactly how the card is used. What it needs to be sure about is that the company will be capable of making the monthly payments, so expect your business's credit rating and financial records to come under close scrutiny.
Keeping expenses simple
When employees incur frequent business expenses, for example through travel, hospitality, fuel costs and so on, a corporate credit card makes a lot of sense. Expenses are easy to track and cross reference against receipts, and an additional bonus is that credit cards can be treated as an allowable expense for tax purposes – although you should always double check with your accountant as tax rules can frequently change.
Managing cash flow
A credit card can even be seen as a rudimentary form of revolving credit. That is to say, if cash flow becomes tight, the card can be used to pay suppliers and to meet other operating costs on a short-term basis.
Get your business credit card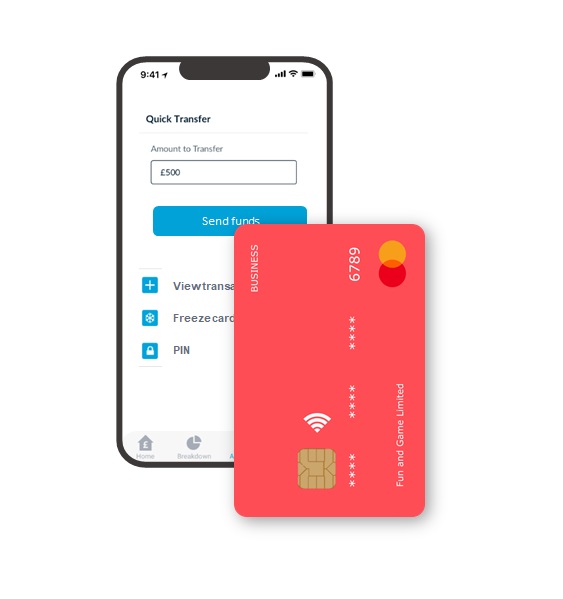 Get a credit limit of up to £50,000.
Applying has no impact on your credit score.
Applications are undertaken by our business credit card partner, Capital on Tap.
Reaping the rewards
In personal banking, credit card companies attempt to seduce potential clients with points and rewards by linking up with schemes like Nectar and Tesco Clubcard. Exactly the same strategies are used in the business world, and there is an opportunity to cash in. Obviously, the average business is less interested in getting money off groceries, but tie ins with hotel chains and airlines can result in some major reward benefits. There is nothing like an upgraded flight or hotel room to get the best performance from a sales manager, for example, and if it can be attained at zero cost to the business, then all the better.
New business or poor credit rating?
Given what was said earlier about the stringent approval processes, you might think a corporate credit card is not an option for a new business with little history, or one with a poor credit rating. This is not necessarily so. There are specialist lenders who deal specifically with businesses in this position. They will only offer a relatively low credit limit, but the upside is that as long as the balance is paid off on time every time, there is no better tool for sending that credit score on an upward trajectory.