Saturday 2nd December 2017 marked Small Business Saturday's 5th birthday in the UK, and local authorities, small business organisations and the public offered huge support, reaffirming its importance as a key day for retailers in the run up to Christmas.
In a recent article by smallbusiness.co.uk, Michelle Ovens MBE, campaign director of Small Business Saturday says:
'In its fifth year, Small Business Saturday has once again seen a boost in spending with Britain's small independent businesses. There's been a phenomenal response from small businesses in communities across the UK again this year so it's fantastic that a record amount was spent with them this Small Business Saturday.'
Let's take a look at some of the key highlights from the American Express commissioned survey:
An estimated £748 million was spent with small businesses across the UK on the day. This was an increase of 4% on Small Business Saturday last year.
Over 115,000 #SmallBizSatUK tweets were sent on the day itself reaching more than 115 million people.
#SmallBizSatUK trended at number one in the UK.
More than 250 small business organisations supported the nationwide initiative, including the Federation of Small Businesses and Enterprise Nation.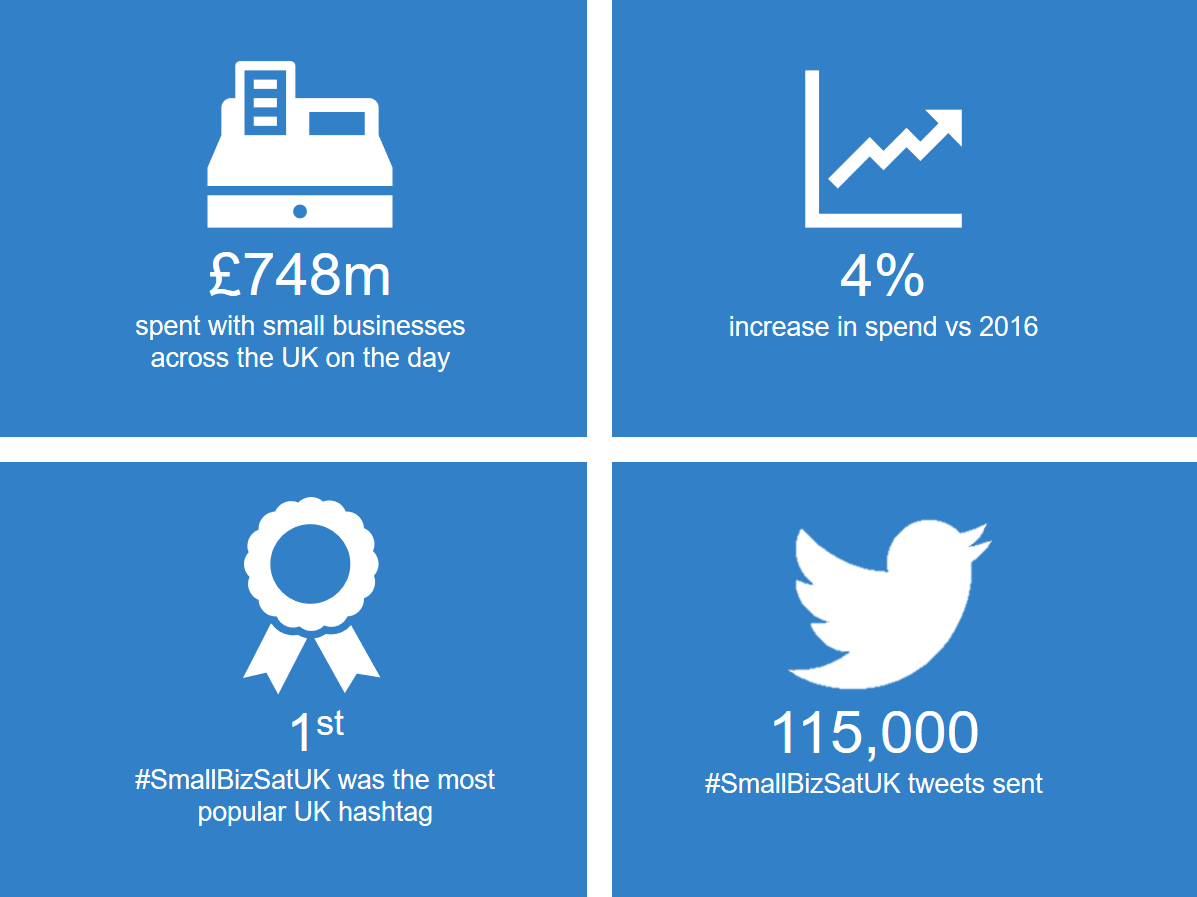 Overall, it was a nationwide effort with the public, local authorities and small businesses working together to promote our small businesses across the country.
Towns offered free public parking on the day with local authority backing up from 80% in 2016 to 87% this year.
Small businesses clubbed together to host events in their areas, whilst the Small Business Saturday UK bus tour made its way around the UK.
The public spent big too with 56% of shoppers aware of the day saying they spent more than usual.
Spend with small businesses on Small Business Saturday reaches an all time high! £748mil spent at small biz on Sat 2nd Dec, up again on 2016 (thanks to @AmexUK for the research) Thanks to all customers, businesses and supporters who continue to support these fantastic businesses! pic.twitter.com/dRLm5l98hj

— SmallBizSatUK (@SmallBizSatUK) December 7, 2017
We welcomed small businesses from all over the country to Downing Street this week to mark #SmallBizSatUK pic.twitter.com/v9QnnR6CbK

— UK Prime Minister (@10DowningStreet) December 2, 2017
Small businesses are crucial to London's economy, character and diversity – make sure you go out and support a local small business today for #SmallBizSatUK https://t.co/UCPHfNeJzM pic.twitter.com/Nt3BZez4WV

— Mayor of London (@MayorofLondon) December 2, 2017
---
BIZL helps small businesses compare finance options online. Do you need our help? Contact us at [email protected] or even better let's chat on 0203 1678767
We write about all things small-business – stay in touch via Twitter, LinkedIn or Facebook, and sign up to our newsletter to be a part of the journey.