Today the British Chambers of Commerce (BCC) has published its Q4 2017 Economic Survey – Britain's largest and most authoritative private sector business survey – based on more than 7,000 responses from firms across the UK.
The report shows that growth in the UK economy remains subdued, with almost all services indicators down since the EU referendum, and the strong performance of manufacturers has eased slightly.
Recruitment difficulties
According to the Freight Transport Association's quarterly survey sponsored by Santander, 67% of haulage companies had issues recruiting drivers in Q3 2017, with 58% expecting ongoing issues in Q4 2017.
The BCC survey, however, shows that while half of service sector businesses had a recruitment drive in Q4 2017 , 71% reported facing recruitment difficulties, the highest proportion since records began. Managerial staff were the most difficult to recruit.
Respondents were broken down by region and nation, with the regional responses illustrated below: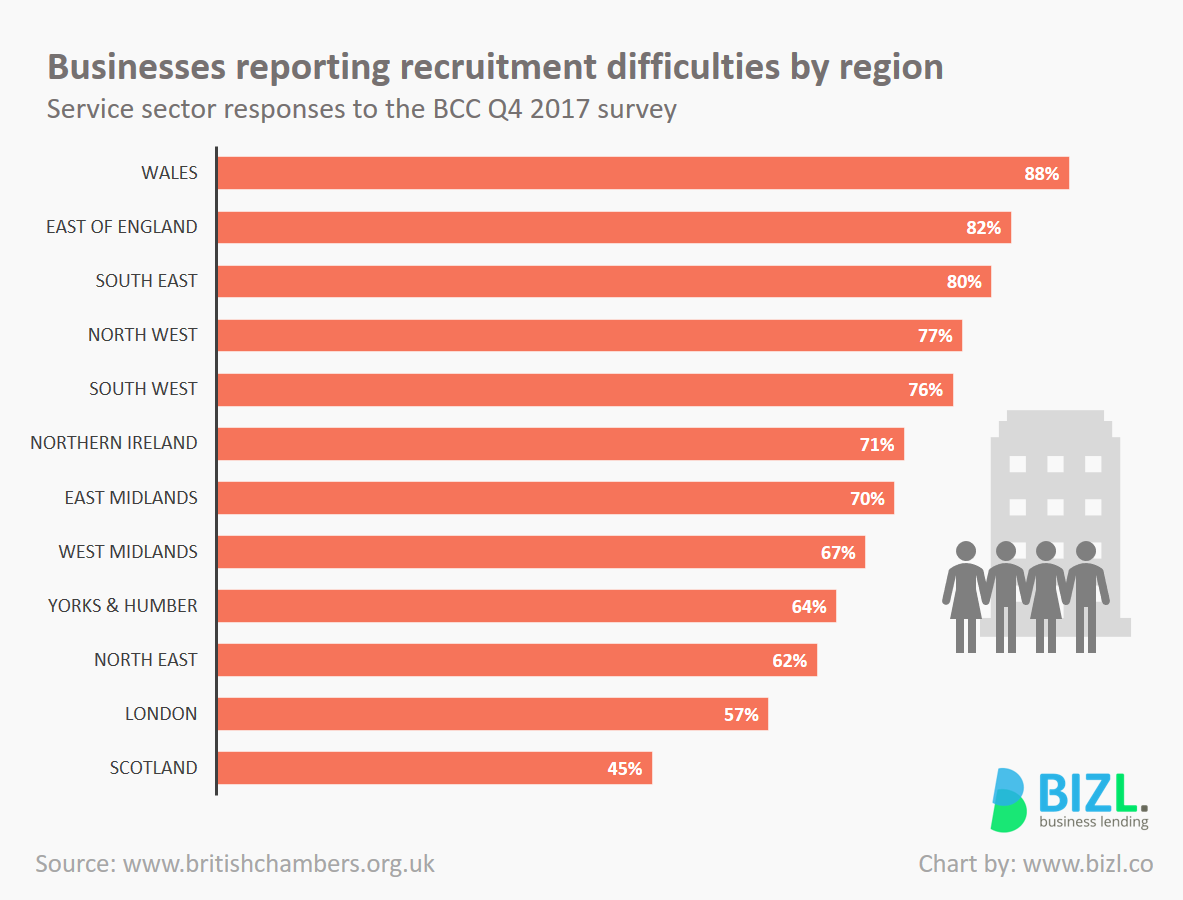 The regions which saw the largest percentage of service sector companies experiencing recruitment difficulties were Wales (88%), East of England (82%) and the South West (80%). Meanwhile Scotland (45%), London (57%) and the North East (62%) reported the fewest recruitment challenges.
Employment growth and future trends
Despite these reported challenges, 22% of manufacturers and 19% of service firms grew their workforce in Q4 2017.
According to the Office of National Statistics the number of people employed by Small and Medium Enterprises (SMEs) grew by just over 341,000 from 2016-2017, now with a total of nearly 14 million employees. Over half of that increase came from micro-sized businesses with between 0-9 employees.
Of the BCC survey respondents 23% of manufacturers expect to grow their workforce next quarter, while 19% of service firms expect to grow their teams in the next quarter.
Dr Adam Marshall, the Director General of the British Chambers of Commerce, summarised the survey results by saying:
"While there are many business bright spots across the UK, the evidence from the biggest private business survey in the country shows that growth and confidence remain subdued overall as we enter a new year.

Labour and skills shortages are set to be the biggest potential drag anchor on business in 2018, since ultimately it is people that make businesses work. Business itself must do more – by training and investing wherever possible in people – but government must also give firms the confidence to put their livelihoods on the line and go for growth.

This must be the year employers act rather than just complain on skills, and the year government delivers clarity, leadership and investment in people and infrastructure. Kick-starting growth, and boosting wages and prosperity for all, depends on this."
Read the BCC survey in full here.
---
BIZL helps small businesses compare finance options online. We write about all things small-business – stay in touch via Twitter, LinkedIn or Facebook, and sign up to our newsletter to be a part of the journey.
Do you need our help? Contact us at [email protected] or even better let's chat on 0203 1678767