Every business needs a cash injection from time to time. It might be to make an important investment that will allow you to scale up production and increase sales, to fund an asset purchase, or to tide you over during a seasonal dip in trade.
A business loan is one of the most common and straightforward ways of acquiring the cash, but it is by no means a foregone conclusion that the bank or lender will say "yes". Getting turned down for a business loan will be disappointing and disheartening, but in this age of multiple types of business finance it does not mean disaster.
Understanding why a loan might be rejected is key to deciding what alternative to pursue. Here are some of the most common reasons:
Poor credit score
If the business has a poor credit score, a lender will see it as a higher risk. Your own personal credit rating can also be a factor here, and if it is through the floor, it will inevitably affect your application. The lender will adopt the attitude that if you have difficulty managing your personal credit, it suggests you might have the same problems acting on behalf of a business.
If you do have a poor credit score all is not lost. Improving your business credit score takes time, but there are plenty of easy tricks that will help.
Too new on the scene
New businesses pop up every day, but the sad fact is that around half of them disappear just as quickly, folding after less than two years. Given this backdrop it is understandable that lenders will treat newer businesses as a higher risk.
That can be frustrating if your business is booming and your credit rating is high. If this is the case, it pays to shop around between different lenders, as each will have its own way of assessing your enterprise.
See your options now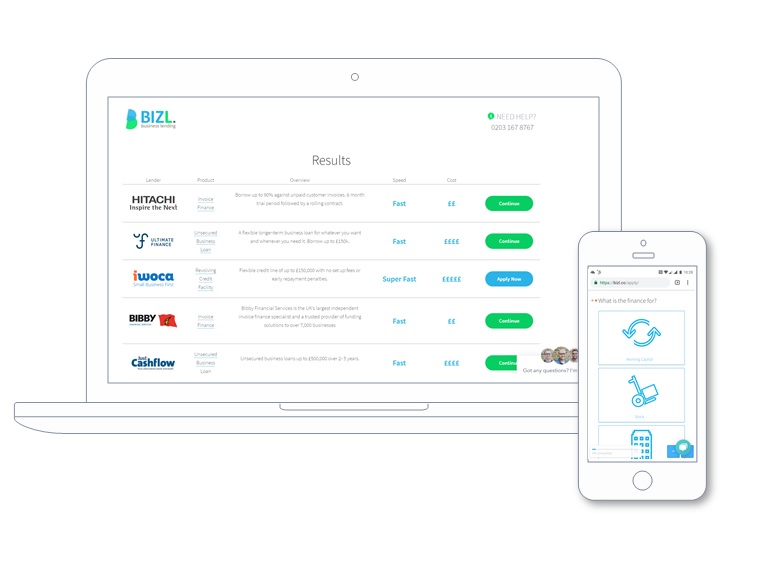 Apply in 60 seconds
See which lenders can help
No obligation
Viewing your options has no impact on your credit score
Your cash flow is unstable
Cash flow is the biggest killer of new businesses. It is not uncommon for an enterprise to be thriving, with a growing client base and a full order book, but still to find itself running out of cash and going out of business. Lenders will look particularly closely at cash flow, and if it is erratic, that will raise a red flag.
Some financial tools, such as invoice finance, are specifically aimed at easing these cash flow risks, and are particularly handy for providing stability in those sectors that see seasonal peaks and troughs.
You didn't ask for enough money
For business lenders, small loans are often just not worth the administration costs, so strange though it might sound, it is often the case that the more you ask for, the better the chances of being accepted. If it really is the case that you only need £20,000 or so, an alternative such as an unsecured business loan or a revolving credit facility will often be a better option.